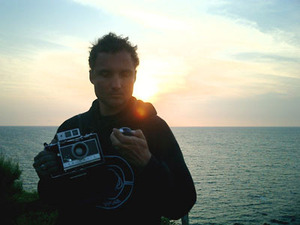 Biography

Born in Athens, Greece and raised in Canada, he settled in Europe where home is divided between the Basque country, Paris and the locations that work takes him too.
Taki's photographs have been published in many influential magazines around the world. Editorial clients include Vogue Hommes International, Numero, Vanity Fair, Mixte, Italian Marie Claire and L'Official to name a few. He has exhibited his works in London, Paris, Germany and Spain.
A documentary film he produced and shot, "The Still Point" has been awarded in three international festivals. His first short film featured at Cannes short films in 2014. Currently working on a documentary around the ocean.

Corporate films are visible on Lightbox Media
Films
"A Man Gets Shot" , a short comedy filmed in 2021 . "The Still Point", which premiered in Santa Barbara, has won "Best Surf Film" for 2011 at both Byron Bay International festival and Ventura Film Festival. The second doc film was " David not Me". A short, We're Rich, premiered at Cannes short films, in 2014.
Exhibitions

September 2021 - Musee de Guethary
Dec 2015 - Musee Basque de Bayonne
July 2010 - Musee de Guethary
July 2009 - Escape Gallery Bordeaux
May 2009 - Woah Gallery Lima
June 2008 - Woah Gallery Frankfurt
March 2006 - Dulap Galery Laussane
Sept 2005 - "Summer Exhibition" - Carpender Gallery London
Sept 2004 - "Red Death" - Centre Georges Pompidou Paris
Dec 2003 - "Heteroclito"- photographies - Gallery Alain Le Gailard Paris
June 2003 - "Assamblage d'Images" - photographies et videos - Musee de Guethary
June 2000 - "Glow in the Dark" - photographies - Gallery Thierry Marlat Paris